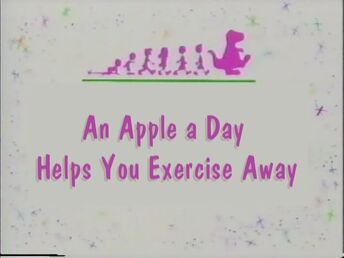 An Apple A Day Helps You Exercise Away is the 18th episode in the first season of "Our Specail Friend Barney" 
To help the kids with they're P.E class Barney sets up a fun exercsise course around the hangout. 
Barney Theme Song
Do Some Exercise
Shape Up Freeze 
Animals In Motion 
Do What The Duckies Do
The Baby Bop Hop 
The Exercise Song
I Love You
Ad blocker interference detected!
Wikia is a free-to-use site that makes money from advertising. We have a modified experience for viewers using ad blockers

Wikia is not accessible if you've made further modifications. Remove the custom ad blocker rule(s) and the page will load as expected.