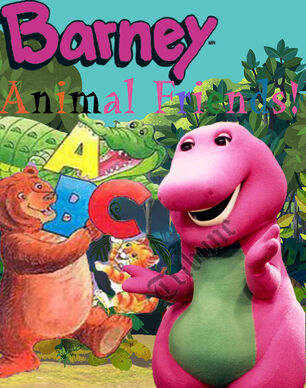 Barney's Animal Friends is a Barney Home Video based on the spinoff Our Special Friend Barney.
Some of the kids in the Imagination Hangout are making projects about animals for school.  Each child showcases their work in frount of Barney and Baby Bop to practice for their presentation. With a little bit of imagination Barney makes the animals pop out of their poster boards (sort of). After the end of the presentations the children share stories that they have had with thouse animals At the end the children are ready to present and thank Barney with a card featuring drawings of their favorite animals.
Barney
Baby Bop
Kristy
Jimmy
Charles
Barney Theme Song
What Can We Make on a Crafty Day? (in the tune of What Can We Make on a Rainy Day?)
Itsy Bitsy Spider (taken from: Barney's 'Halloween Party)
I Used to Be Afraid
Baby Bumblebee
What Makes a Flower So Pretty?
The Tiger Song
Here, Kitty Kitty
Clip, Clop Riding on a Pony (taken from: Let's Go to the Farm)
Animals in Motion
The Barney Bag
The Dino Dance
I Love You
Barney jokes around with the kids with the Tiger, Spider and Bee. Instead of making the real animal pop out of the poster board he has fake versions of the animals (Spider: Paper craft, Bee: Plastic toy, Tiger: Baby Kitten)
This video features clips from old Barney and Friends videos Barney's Halloween Party and Let's Go to the Farm
Ad blocker interference detected!
Wikia is a free-to-use site that makes money from advertising. We have a modified experience for viewers using ad blockers

Wikia is not accessible if you've made further modifications. Remove the custom ad blocker rule(s) and the page will load as expected.