Barney's Magical Movie Studio is a Season 16 Barney Home Video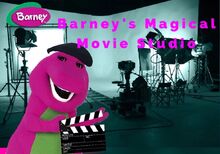 Jenna is supposed to make a movie for her after school "Movie Club" group but she doesn't have any ideas. Barney takes the kids to a real movie studio to show everyone what it's like to work on a movie, and while there, they learn the basics of making movies, perform skits on camera, and more.
Barney (Body: TBA) (Voice: TBA)
BJ (Body: Jared Harris) (Voice: Patty Wirtz)
Baby Bop (Body: Lauren Mayeux) (Voice: Julie Johnson)
Riff (Body: Adam Brown) (Voice: Michaela Dietz)
Priscilla
Joey
Noah
Jenna
Barney Theme Song
Just Imagine
Thinkety Think
Let's Go
Trying on Dreams
I Love Stories
Puttin' on a Show
A Frog Went A-Wooing Go
I Can Laugh
When the Circus Comes to Town
Music is for Everyone
A Rock-N-Roll Star
What If You Could Be in the Spotlight?
Look at Me, I'm Dancing
The Rocket Song
Captain Pickles
Puttin' on a Show (Reprise)
I Love You
The studio the group visits in this video is the studio where episodes for B&F are filmed.
Ad blocker interference detected!
Wikia is a free-to-use site that makes money from advertising. We have a modified experience for viewers using ad blockers

Wikia is not accessible if you've made further modifications. Remove the custom ad blocker rule(s) and the page will load as expected.