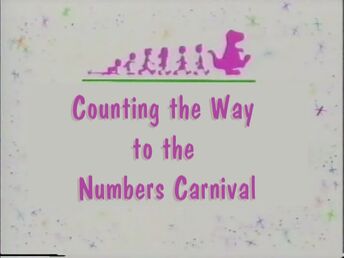 Counting The Way To The Numbers Carnival is the sixth episode of the spinoffs first season. It is a semi remake to "Carnival of Numbers"
When Baby Bop forgets how to count Barney and friends (with help from the Barney Bag) takes her to the numbers carnivel added to the hangout for a school event 
Educational Theme:Numbers and Counting 
Stories:None 
Barney Theme Song
1, 2 Buckle My Shoe
It's a Great Day for Counting
The Barney Bag
Carnival of Numbers 
The Fishing Song 
The Number Limbo
The Baby Bop Hop
Toss It at the Bottles 
Way to Count
I Love You 
Ad blocker interference detected!
Wikia is a free-to-use site that makes money from advertising. We have a modified experience for viewers using ad blockers

Wikia is not accessible if you've made further modifications. Remove the custom ad blocker rule(s) and the page will load as expected.