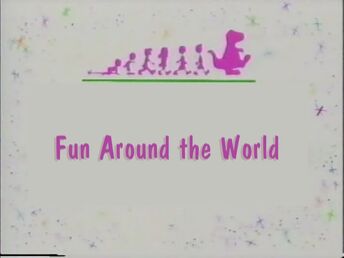 Fun Around The World is the sixth episode of the spinoff it's a semi remake of "Our New Friend" and "A world of FriendShip"
Kristy's pen pal from Ireland is visiting the Hangout meaning things are about to get global today
Barney and the kids (and Kristy's pen pal Kaitlyn) Have fun learning about traditions in Kaitlyn's home country as well as other things like singing songs from other countrys, playing games from around the world, and making country flags (with help from "The Barney Bag")
But when Kaitlyn leaves Kristy wonders if she'll still be friends dispite her living another country, Barney explains that even if someone is in another country she'll still be her friend no matter what.
Educational theme:Cultre and Tradtions Around the World And Coping When a Friend Goes Away
Barney Theme Song
The Friendship Song
Hello, Hello  Dia duit (Hello in Irish) 
Did You Ever See a Lassie?
Looby Loo 
Diez Amigos
The Barney Bag
Raise The Flags (Country Flags Varient)
Moving Away Medley (When Tomorrow Comes/No Matter Where They Are)
I Love You
Ad blocker interference detected!
Wikia is a free-to-use site that makes money from advertising. We have a modified experience for viewers using ad blockers

Wikia is not accessible if you've made further modifications. Remove the custom ad blocker rule(s) and the page will load as expected.