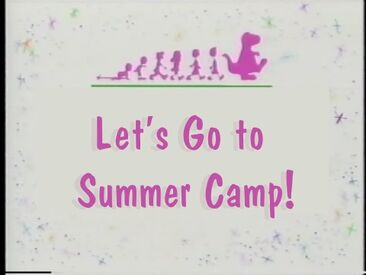 Let's Go to Summer Camp is a
Barney Home Video
based on the spinoff
"Our Special Friend Barney"
.
The kids summer camp is about to get "Tee-riffic"  when they find out who's coming to play , Barney and the kids have fun at summer camp including , swimming at the beach , eating a yummy snack and singing at the campfire.
Barney Theme Song
It's a Fun Fun Sunny Day
Let's Go
A Camping We Will Go 
Snack Attack (re written version of have a snack)
Castles So High
He Waited in The Water
Baby Bop's Blankey Loss Woes 
Kookaburra 
Scary Stories
Smores
Twinkle Little Lighting Bug
Listen to the Night Time
A Friend Like You (slow paced)
This is the only apperance of the Camp Consulor 
This marks Amy's first apperance (in the following season its revaled that she and Karen are sisters)
The Barney doll is not used in this video instead one of the kids suitcases gets stuck and Barney pops out of it after it opens
This is the only time Barney magicly disappers Insted of turning back into a doll
I Love You is not sung in this video insted "A Friend Like You" is sung in a slow pace
Barney and the Camp Counsler Never Appear Together
At the end of the video since the doll isn't present it shows the Camp Counsler looking up at the stars and seeing a lighting bug making a Barney drawing (with one of the lighting bugs going out to resemble it winking) 
Like Barney Songs 4 this video was dubbed in german (Sommerspaß mit Barney)
Ad blocker interference detected!
Wikia is a free-to-use site that makes money from advertising. We have a modified experience for viewers using ad blockers

Wikia is not accessible if you've made further modifications. Remove the custom ad blocker rule(s) and the page will load as expected.