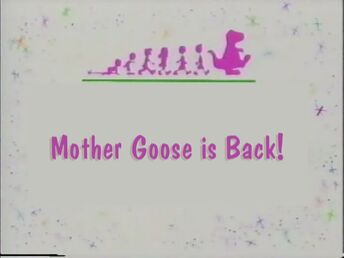 Mother Goose is back is the 7th episode of the spinoff "
Our Special Friend Barney
" 
While in the libary the kids find a book filled with rhymes of Mother Goose , but they noticed that everytime they read a rhyme something from said rhyme gets out of the book and then the rhyme disppers. Barney comes to life and he decides there's only one person who could help them , The person who wrote the book Mother Goose 
Educational Theme: Mother Goose Rhymes
Barney
Fred 
Charles
Karen 
Mother Goose
Old King Cole 
Jack 
Barney Theme Song
The Library 
Humpty Dumpty
I'm Mother Goose 
The Idea Song 
Muffin Man Medly (The Muffin Man , Hot Cross Buns , Patty Cake)
Old King Cole
Backwards Nursery Rhyme Medley (Jack and Jill , Mary had a little lamb , Humpty Dumpty , I'm A Little Teapot)
I Love You
This is the only appearnce of Jack 
Ad blocker interference detected!
Wikia is a free-to-use site that makes money from advertising. We have a modified experience for viewers using ad blockers

Wikia is not accessible if you've made further modifications. Remove the custom ad blocker rule(s) and the page will load as expected.