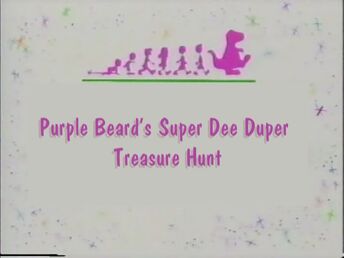 Purple Beard's Super Dee Duper Tresure Hunt is the first episode in the spinoff as well as the series preimere It is a semi-remake of
'"The Treasure of Rainbow Beard"
After Kristy reads Karen a story about pirates they decide that they want to go on a treasure hunt. 
With some imagination and help from "Purple Beard the Pirate" Barney and friends go on a treasure hunt based on activties having to do with pretend games and using they're imaginations.
Barney Theme Song
I Love to Sail 
Just Imagine 
The Idea Song 
A Hunting We Will Go 
The Barney Bag Song 
We Are Little Robots
If You Imagine 
I Love You
This episode marks the debut of "The Imagination Hangout" (called simply "The Hangout" by Barney and the kids) As for where the hangout is it's not said untill midway trough out the first Season (and revealed at the start of the second season) This marks the debut of "Fred" and "Charles" (the rest of the cast were introduced in a direct to video movie)
The Barney Bag returns with a new design 
The season 4-6 theme returns but the footage and vocals are rerecorded 
A throwback to "The Queen Of Make Believe" is added in the episode (one of the steps to find the treasure is to make a box robot to get the next clue) 
Ad blocker interference detected!
Wikia is a free-to-use site that makes money from advertising. We have a modified experience for viewers using ad blockers

Wikia is not accessible if you've made further modifications. Remove the custom ad blocker rule(s) and the page will load as expected.