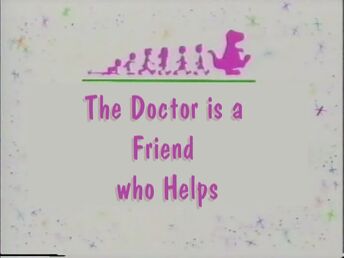 The Doctor Is A Friend Who Helps is the 19th episode in the first season of "Our Specail Friend Barney" it's a semi remake to "Doctor Barney is here"
Karen is going to the doctor's in a few minutes but is a little nervous about it so Barney and the rest of the kids turn the hangout into "Doctor Barney's Tee-riffic Doctors Office"
Educational Theme:Going To the doctor and staying helthy 
Stories:The little boy Who Was Never Sick a day in his life 
Barney
Jimmy
Kristy
Karen
Fred
Jake 
Rickey The Traveler 
Barney Theme Song
The Doctor Is a Friend of Mine
Silly Sounds
What Would I do without my teeth?
The Yum Yum Song 
Keep Your Sneeze To Yourself
I Used To Be Afraid 
I Love You 
Ad blocker interference detected!
Wikia is a free-to-use site that makes money from advertising. We have a modified experience for viewers using ad blockers

Wikia is not accessible if you've made further modifications. Remove the custom ad blocker rule(s) and the page will load as expected.