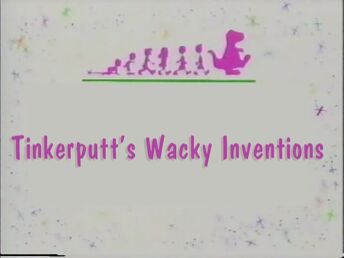 TinkerPutt's Wacky Inventions is the 10th episode of the spinoff 
Barney gets a letter from his friend Professer Tinkerputt saying he's coming to the "Imagination Hangout" with a surprise. 
During the visit he brings him various inventions like "The Rain To Candy Machine" "Professer TinkerPutts Portable Pastry Maker" and "The Sad Day to Happy Day Cheerer Uper" 
Near the end Tinkerputt revals that his surprise is a music box that plays Barney's favorite song 
Barney Theme Song 
Being Together 
Professer Tinkerputt's song 
If All the Raindrops
Rain , Rain Go Away 
If Your Happy and You Know it
Muffin Man Medley
I Love You 
This is TinkerPutts first apparnce since 1998 
Barney's Big Surprise is mentioned in this episode (Before the muffin man medley TinkerPutt asks Barney if he remebers when he made a similer invention during BJ's birthday party a while back) 
Ad blocker interference detected!
Wikia is a free-to-use site that makes money from advertising. We have a modified experience for viewers using ad blockers

Wikia is not accessible if you've made further modifications. Remove the custom ad blocker rule(s) and the page will load as expected.