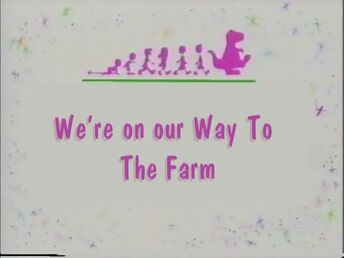 "We're On Our Way To The Farm" is the 12th episode in the spinoff it's a semi remake of "Down on Barney's farm"
The kids are doing they're homework for school when they notice written in they're books  that if they go to a place filled with animals they could get extra credit 
Barney comes to life and takes the kids to his friend Farmer Dooley's farm where they learn about the farm life and how the animals help the farm 
Educational Theme:Farm Animals 
Stories:None 
Barney Theme Song 
Here We Go Again 
Down On Grandpa's Farm 
The Milk Song 
5 Little Ducks 
Turkey In The Straw (Barney's version)
Old McDonald 
I Love You
This is the first epsode since 2009 where the travel book is used 
Ad blocker interference detected!
Wikia is a free-to-use site that makes money from advertising. We have a modified experience for viewers using ad blockers

Wikia is not accessible if you've made further modifications. Remove the custom ad blocker rule(s) and the page will load as expected.