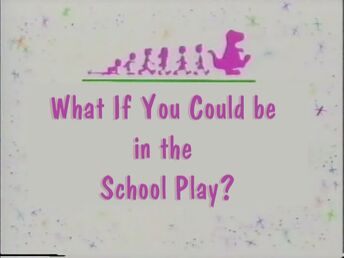 what if you could be in the school play (titled "What If You Could Try New Things?" in a few episode videos) is the fourth episode of the spinoffs first season 
It's a day filled with fun as Barney and the kids do things that make them special to pass the time before the middle school play Jimmy's in. But when Kristy reveals she can't skate the focus changes to trying new things. 
Educational Theme:Being Special and Trying New Things 
Stories:The Turnip 
Barney 
Kristy 
Karen 
Jake
Jimmy
Rickey
Barney Theme Song
Nobel Duke Of York
What If You Could Be In The Spotlight?
You Might Like Something New
You Can Count On Me
Everyone Is Special
I Love You
This Episode was a Bonus episode on a Episode video to show a sneek peak of the then never aired show 
When this was on video the theme was season 7-13 and the title card read "Super Dee Duper TV" instead of  "Our Special Friend Barney" (Mostly because the name for the series was still in the works at the time) 
The Turnip story uses the sence from the home video "It's Time for Counting" (The only diffrences is Booker T.'s narration is replaced by a new one from Rickey) 
This could very well be the First episode filmed (Seeing How The Library and the stair case to it is nowhere to be seen in the main hangout and Barney's closet is where the stair case would be (as opposed to it being near the Garden entrance)) 
This Is the only time Carey Stinson plays Barney in the spinoff Hench making this his last time peforming Barney 
Ad blocker interference detected!
Wikia is a free-to-use site that makes money from advertising. We have a modified experience for viewers using ad blockers

Wikia is not accessible if you've made further modifications. Remove the custom ad blocker rule(s) and the page will load as expected.